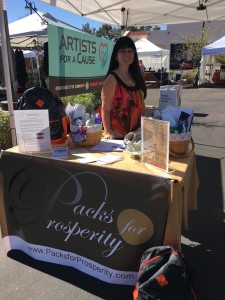 This past weekend was amazing.  I spent the weekend at the art show "Artists for a Cause" in Scottsdale, Arizona.  The sun was shining and it was a beautiful 85 degrees.  The mountains were the backdrop to the show of 22 artists.  To top it off we were blessed with the beautiful sounds of Joshua Isaac and Nicki Park.  
The Artists for a Cause hosts art shows two weekends per month at the Mercado in Scottsdale on Via Linda.  They donate a portion of their proceeds to a different "cause" each month.  Packs for Prosperity was chosen as the "cause" for the month of February.  We are grateful for the opportunity to be a part of your show and to help support the amazing artists who are supporting our community.
The next show is scheduled for February 26-27th.  Visit their website for complete details, directions and to see the Artists who will be attending.