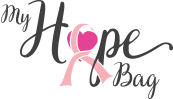 My Hope Bag is a 501(c)3 non-profit organization providing bags of hope and comfort, as well as resources and wellness education for those diagnosed with breast cancer.
Their organization is volunteer-run. That means they need YOU! Whatever your skills or abilities, there is always a place for you at My Hope Bag. From making follow-up calls and deliveries, to building displays and assembling bags. They welcome your help!
Cancer isn't seasonal, which is why they have a year-round supply drive. In order to make sure every woman requesting a bag gets one, they need to keep supplies in stock. You can help with simple donations.
For more information click here to visit their website.