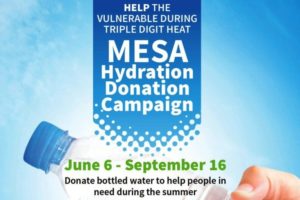 The 11th Annual Mesa Hydration Donation Campaign is underway with a goal of collecting 500,000 bottles of water to help people in need during the extreme summer heat. 
 
"The campaign is a life saver for the less fortunate during the hot summer months. Our residents have been extremely generous in donating bottles of water in previous years and I know they are ready to do so again this year," Mesa Mayor John Giles said. 
 
A news conference to launch the campaign was held this morning at United Food Bank, which distributes donated water to numerous nonprofit organizations in Mesa and throughout the valley including Paz de Cristo, Mesa United Way and A New Leaf-East Valley Men's Center. 
 
"It's no secret that as the temperature rises in Arizona, the need for water for the less fortunate rises along with it," Mesa Councilmember and United Food Bank Board Member Kevin Thompson said. "This campaign has become a literal life saver for those individuals, and I know that as they have always done, our families, friends and the business community will step up and once again show their generosity through the donation of water bottles."
 
Since the campaign began in 2007, more than 2.7 million bottles of water have been donated.
 
"Water is a basic necessity for human life. The Hydration Donation Campaign is an easy way to help our vulnerable neighbors during the heat of summer. $5 buys a case of water. I hope the community will step up and help by making a monetary or water donation to this campaign," United Food Bank Interim President and CEO Dave Richins said.
 
The Mesa Hydration Donation campaign is a stark reminder of the dangers of summer heat in Arizona, which first responders encounter daily.
 
"The risks of dehydration are great for anyone exposed to the triple digit temperatures, especially those who are unsheltered or don't have a place to easily get out of the sun," Mesa Fire and Medical Deputy Chief and Public Information Officer Forrest Smith said. "Without donations of water, the outcomes of our emergency responses to cases of dehydration, heat exhaustion or heat stroke would be much worse." 
 
Residents can donate water at Paz de Cristo at 424 W Broadway Rd. from 7 a.m. to 3 p.m. Monday through Friday.
Tags: mesa hydration campaign, packs for prosperity, water donations for homeless