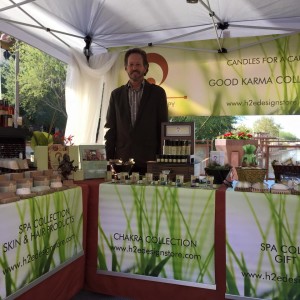 H2E Design and Nicholas Cappele have generously shared their "Good Karma" with Packs for Prosperity this winter.
H2E creates a variety of spa products and candles in its Phoenix based facility.  They use only quality ingredients and essential oils in their products and they have beautiful scents along with their other benefits.
H2E has created a line of products specifically for their Good Karma Collection.  Each season has its own unique scents.  The Winter Good Karma Collection includes the Bayberry, Cinnamon Stick, Hearthside, Lovespell Homme, Lovespell Femme and my all time favorite Orange Chili Pepper.
Each season H2E Design chooses a charity to receive 10% of the product sales of the Good Karma Collection for that season as part of their "Candles for a Cause" campaign.
As promised, Packs for Prosperity received a generous check from H2E Design for the Winter sales!
We will be putting the funds to good use while creating our next big batch of backpacks for those in need in the East Valley and Metro Phoenix.  We will be adding small blankets, hats and gloves to these winter packs.
Thank you H2E Design for your support in this community!
Packs for Prosperity

Tags: candles for a cause, charity, Good Karma, h2edesignstore