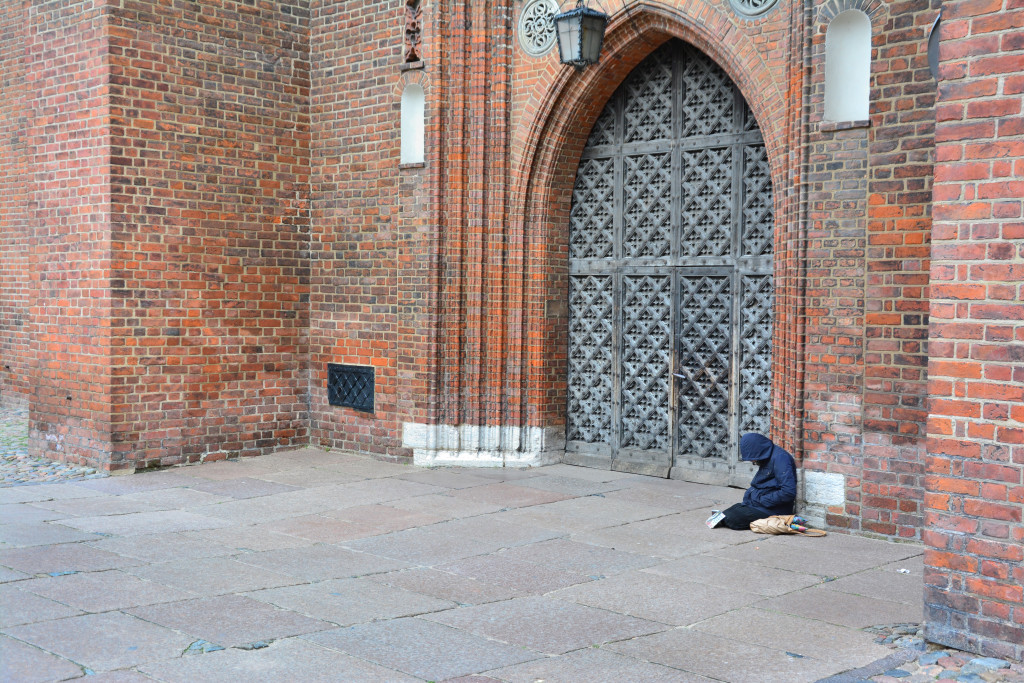 THE IDEA FOR PACKS FOR PROSPERITY CAME TO ME SLOWLY
AS I WAS BECOMING MORE AWARE OF OTHERS….
IN SO MANY WAYS. GETTING OUTSIDE OF MYSELF.
I RUN A SMALL COMPANY AND I USUALLY WORK FROM HOME, BUT OVER THE PAST YEAR I HAVE FOUND MYSELF TRAVELING IN MY CAR UP AND DOWN THE 101 FREEWAY TO AND FROM SCOTTSDALE OR PHOENIX TO MEET WITH CLIENTS.  IN MY TRAVELS I HAVE BECOME AWARE OF THE INCREASING NUMBER OF HOMELESS INDIVIDUALS ON THE STREET AND MOST ESPECIALLY ON FREEWAY OFF-RAMPS. IT WAS NOT A GENTLE AWARENESS… IT BECAME A DAILY AWARENESS… "IT SEEMED EVERYWHERE I WENT THERE WAS SOMEONE WHO WAS IN NEED, MEN, WOMEN AND CHILDREN."  
I AM NOT ONE TO CARRY CASH IN MY WALLET, I ALMOST NEVER HAVE CASH ON HAND. SO I WAS THINKING OF WAYS THAT I COULD HELP BY HAVING SOMETHING IN MY CAR, POSSIBLY IN MY BACKSEAT THAT I COULD REACH BEHIND AND GRAB AND HAND OUT TO THOSE IN NEED ON THE FREEWAY OFF RAMPS.  SO I DECIDED THAT BACKPACKS WOULD BE A GREAT WAY TO OFFER ESSENTIAL SUPPLIES TO THOSE IN NEED AND THEY WOULD BE SOMETHING YOU COULD HAVE ALREADY PREPARED AND KEEP IN YOUR CAR ….. SAY ONE OR TWO AT A TIME.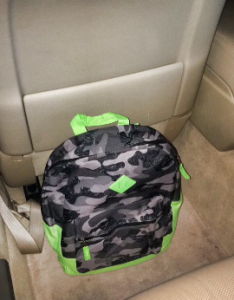 IN MY RESEARCH ON HOMELESSNESS IN ARIZONA I HAVE FOUND THESE STATISTICS: 
82,000 individuals are receiving emergency food boxes each week in Arizona.
More than 14,000 experience homelessness each day.
30% of the homeless population are children and teens.
In one year, the working poor in Arizona have seen a 10% increase in costs to maintain basic living necessities such as food, shelter and clothing.
Almost 50% of the homeless are women, children or families.
The fastest growing segment of the homeless population is families with children.
43% of children living in homeless families are under the age of 6.
16% of the single adult population suffers from some form of severe or persistent mental illness.
At least 40% of the adult homeless population has an addiction disorder.
23% of homeless men are US veterans.
THERE ARE RESOURCES IN THE EAST VALLEY THAT OFFER SOCIAL SERVICES TO CLIENTS WHO LIVE ON THE STREET AND THERE IS THE HUGE HOMELESS CAMPUS IN PHOENIX, THAT IS ASSISTING CLIENTS WITH TRANSITIONING FROM LIVING ON THE STREET TO FINDING HOUSING AND EMPLOYMENT. BUT… THE GOAL OF PACKS FOR PROSPERITY IS TO PROVIDE BASIC AND ESSENTIAL SUPPLIES TO THOSE DIRECTLY IN OUR NEIGHBORHOOD AND COMMUNITIES.  
I HOPE TO INCLUDE IN OUR BACKPACKS, REUSABLE WATER BOTTLES, SNACKS, SUNSCREEN, PERSONAL HYGIENE PRODUCTS, TARPS, PAPER AND PENS, INSPIRATIONAL MATERIALS, AND RECOVERY INFORMATION. WE HAVE ALSO CREATED A RESOURCE CARD THAT LISTS SERVICES IN THE EAST VALLEY AND PHOENIX FOR THOSE WHO ARE LOOKING FOR THESE SERVICES AND DO NOT KNOW WHERE TO FIND THEM.  
PACKS FOR PROSPERITY IS NOT A NONPROFIT, PACKS FOR PROSPERITY IS A PROGRAM UNDER AN EXISTING NONPROFIT, THE SIMPLE RULES FOUNDATION. THE SIMPLE RULES FOUNDATION BELIEVES THAT SMALL ACTIONS CAN CHANGE THE WORLD; AND EACH OF US HAS THE INFINITE POWER TO INFLUENCE IT.  

IT IS NOT THE PURPOSE OF PACKS FOR PROSPERITY TO ANSWER THE QUESTION OF WHY SOMEONE IS HOMELESS. IT IS OUR GOAL TO PROVIDE BASIC AND ESSENTIAL SUPPLIES TO THOSE IN NEED IN OUR COMMUNITY WHO MAY NEED IT AND… TO BE A COMPASSIONATE HUMAN EXCHANGE OF KINDNESS AND HELPFULNESS FOR ONE MOMENT IN ANOTHER PERSON'S LIFE.  IF THAT IS WHAT WE DO WITH ONE PACK OR A MILLION PACKS, THAN WE HAVE SUCCEEDED.  
THIS IS ONE SIMPLE THING THAT I HAVE DECIDED TO DO TO MAKE A CHANGE IN THIS COMMUNITY AND I AM SO GRATEFUL TO ALL OF THE INDIVIDUALS WHO CHOOSE TO HELP IN ANY WAY WITH THIS PROJECT AND FOR YOUR SUPPORT IN CREATING THESE BACKPACKS ALONG WITH ME.
I FEEL THAT WE CAN BE THE DIFFERENCE THAT MAKES A DIFFERENCE. TO CONTINUE TO DONATE SUPPLIES OR TO MAKE MONETARY DONATIONS YOU MAY CONTACT ME DIRECTLY OR VISIT OUR WEBSITE AT WWW.PACKSFORPROSPERITY.COM  
YOU MAY LEARN MORE ABOUT THE SIMPLE RULES FOUNDATION BY VISITING THEIR WEBSITE AT WWW.SIMPLERULESFOUNDATION.ORG   ALL FINANCIAL CONTRIBUTIONS ARE TAX DEDUCTIBLE AND MAY BE MADE OUT TO SIMPLE RULES FOUNDATION AND NOTE THAT IT IS FOR PACKS FOR PROSPERITY.  
CLICK HERE FOR WAYS THAT YOU CAN HELP!