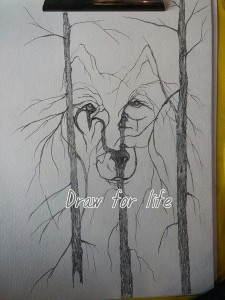 Cricket Fosnaugh is the artist here. We call her "the pencil whisperer."  She finds pencils on her path and creates drawings by feeling the energy of the pencil.
She is creating this one of a kind drawing for the next Sisterhood of Super Women meeting on March 20th at Bellagios Restaurant in Mesa.
Packs for Prosperity, along with the Simple Rules Foundation, will be presenting at this meeting and the drawing has significant meaning for this Project.
Attend this next meeting for a chance to win this beautiful drawing and to see it completed. Cricket also writes a beautiful excerpt to explain the energy of the piece.  Visit her website here!
Thank you Cricket!

Tags: Cricket Fosnaugh, packs for prosperity, simple rules foundation, Sisterhood of Super Women